Skin Inc. Article
FACE TO FACE
Click filename below to access file
Utah Esthetic is a progressive two tiered licensee, Master Esthetician (1,200 hours) and Esthetician (600 hours). Licensure was signed into law on April 18, 2001 by Governor Michael O. Leavitt, HB 105. Utah raised the bar by setting a higher standard for the esthetic industry in the United States.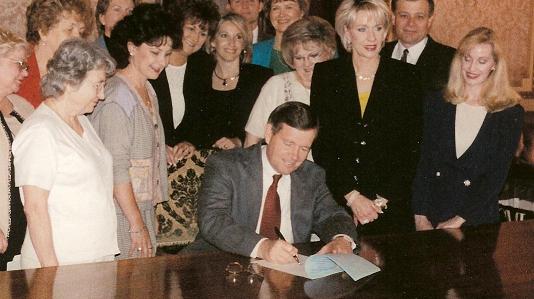 Utah Governor Mike O. Leavitt signing HB 105, thus creating the first Master Esthetic, and Esthetic license.
Ruth Ann Holloway on far right.
For the two tier Esthetic and Master Esthetic licensing to succeed there were other professionals who attended numerous meetings, made important phone calls, gave suggestions, and met with other licensing boards.
To these individuals, I give my most sincere Thanks and Gratitude!
Interviewing for this article was a wonderful experience. There are two thoughts needing clarification in the article, as I did not review the final article before it went to print:
I did outline and write the scope of practice, and the legal draft presented for legislation passage. There were many meetings with other aesthetic professionals who gave of their time and advice.
The exam; I didn't write the Master Esthetic's exam by myself. I was given the task to create it. I delegated topics of education to other qualified Master Estheticians who possessed progressive Esthetic knowledge. I considered their individual strengths and expertise for each area of education. The exam was created and reviewed in committee, then put through the process of making it a legally defensible exam." ~Ruth Ann Holloway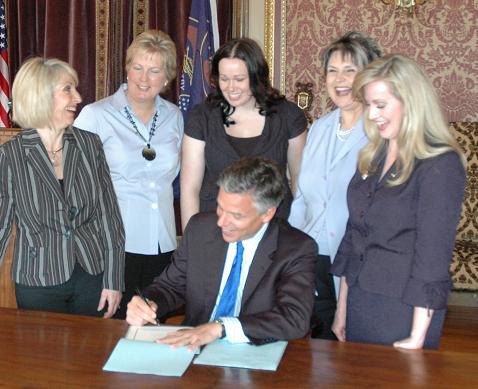 Utah Governor Jon M. Huntsman Jr. HB 356, 2009, Laser Laws Esthetics

Ruth Ann Holloway
Legislative Session 2009 House Bill 356 was signed by Governor Jon M. Huntsman Jr.
Laser Laws for Aesthetic Industry, Utah DOPL
"Serving the State of Utah as the State Master Esthetician on the Board of Licensing, I have witnessed the expansion and growth of the esthetic profession. I love serving within this industry!"
Ruth Ann Holloway, Lic. Master Aesthetician, L.M.T., N.T., M.E.
Dermal Dimensions Progressive Skin Therapy
State of Utah DOPL Board, State Master Esthetician, Emeritus
About Founder: http://www.ddskintherapy.com/page/page/1214371.htm
©Pages, photos, and information on this site are protected by copyright laws.
Medical Esthetic facial treatments may require indirect supervision of our Physician, Dr. Lori Welter.
Serving: Logan Ut, Brigham City Ut, Tremonton Ut, Preson Id, Providence Ut, Millville Ut, Nibley Ut, Hyrum Ut, Wellsville Ut, Mendon Ut, North Logan Ut, Hyde Park Ut, Smithfield Ut, Richmond Ut, Lewiston Ut, Clarkston Ut, Newton Ut, Ogden Ut, Franklin Id
For reference only: Dermal Dimensions is not a Medical Dermatology or Plastic Surgeons office for the care skin diseases or surgery. We offer Advanced Skin and Facial Care rejuvenation for acne, scarring, aging, and photo-damaged skin. When needed we refer patients to Budge Clinic, Dr. Nathan Hansen, Dr. Kelly Hubbard, and Dr. Cort McCaughey. Dr. Robert Young~ Rocky Mountain Dermatology, Dr. Blaine Andersen – Plastic Surgeon, Dr. Casey Isom – Plastic Surgeon.