Beauty and the Beast...the prevention of Skin Cancer is possible.
Tanning beds. For years as a Master Esthetician I've called them 'cancer beds', and then I found this cartoon by Dave Granlund, which is more truthful than funny. After years of being in the skin care field, I can find very little exception for needing to lay in a "cancer" tanning bed.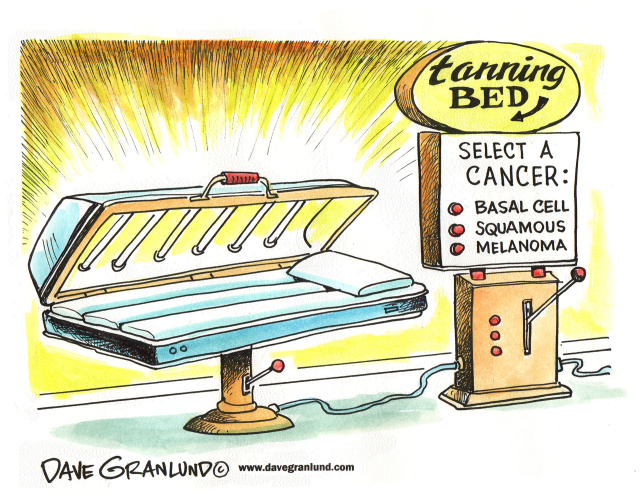 Cartoon used with Permission. License paid.
Actor Hugh Jackman talks about skin cancer, and putting sun protection on kids! He has had a total of six cancer areas removed since this was
Published on May 7, 2015 https://www.youtube.com/watch?v=qpaeE-SpaKs
Thank you to People TV for providing this video.
With early prevention of healthy living, most of these deaths can be prevented. The best prevention is taking care of your body.
One of the best preventions is to study how the many plants and herbs on this earth can help your body, from the inside out, to protect every cell in your body.
Sun is necessary for proper uptake of many nutrients. It can also cause an un-healthy body to age faster if there is "too much" of a good thing.
Winter months especially can be harsh. The snow is very reflective...bouncing as much as 30% more rays back onto your skin. Make sure to apply an SPF 30 to all exposed skin.
One of the most neglected areas are the ears. Children, men, and women with short hair should apply sun protection every day to this thin skinned area.
For teens who just have to have that tan: WATCH THIS ~ Melanoma! http://dcmf.ca/
UVA = the rays that penetrate without burning, they cause damage to the dermis, thus 'A' is for Aging.
UVB= the rays that cause more immediate damage, thus 'B' for burning.
Utah law now reads:
Rule R392-700:
"REQUIRED FOR ALL PERSONS UNDER 18 YEARS FOR EACH TANNING SESSION: IN PERSON WRITTEN CONSENT BY PARENT OR LEGAL GUARDIAN OR PHYSCIAN'S WRITTEN ORDER"
For more on Utah Law and Tanning Beds click here http://www.ddskintherapy.com/tanning-beds-in-uta-press.html
Beautiful actress Linda Evans of DYNASTY MINI SERIES epitomized the blonde bombshell to TV fans in the '70s and '80s. But those suntanned looks came with a price for her. She stated that she has struggled because of the damage she did with years of lying in the sun.
Many sun worshippers share her problems, with sun-spots, wrinkles – even skin cancer. How to prevent?
Unprotected prolonged sun exposure can add to the risk of skin damage, photo damage, and cancer.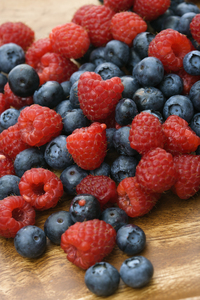 A skin care program high in antioxidant skin products and a diet rich in raw fruits and vegetables, as well as quality vitamin and mineral supplements, will help overall good health and radiant skin.
For more information on skin cancer and how it spreads, this web site from the Mayo Clinic is helpful. (click on link) http://www.mayoclinic.com/health/melanoma/MM00657
Practice safe sun every day. Your skin is your largest exposed organ...take care of it!