Raves
___________________________Originals on file.____________________________
ESTHETICIAN: " RuthAnn, Thank you! Your are the Best!" Marc Edward, Award Winning Esthetician, of Marc Edward Skin Care, Beverly Hills CA
---
MICRONEEDLING: "Microneedling with RuthAnn is the best I've had out of three other treatments, all done in medical offices. Her "special" serum she uses during the needling did more than the Vampire treatment. My acne scars are better, and skin smoother. Her expertise, and skin care products, continue to be exactly what my skin needed for scarring and discoloration! Thrilled! M. S. March 2021
---
BEAUTIFUL AGING and RELAXATION: " I always walk out of your place renewed inside and out!" LA. P. ~ Logan Utah April 2021 Original on File
---
SUN DAMAGE /AGING: "I love your treatments and your products! I'll never find anyone as good with my skin as you..." S.~ Cache Valley, UT
---
ADULT FEMALE ACNE: Thank you so much...all my friends who have known me for years...comment on how much better my face looks. Thank you!! G. E. Logan, Utah Oct. 3, 2020
---
★★★★★
Tracey (Farmington, Utah)
"Ruth Ann is both a scientist and an artist in her work. I have had amazing results. She is knowledgeable and caring. She also works with your busy schedule. I highly recommend a consultation. It has worked out beautifully for me!"
---
"Thanks for your expertise and concern. I really feel fortunate to be in your care. You make me look younger than I am!" (78 yr.) Shirley B. Original on file.
---
"Microneedling done by RuthAnn Holloway, M.E., is so much better! I have had microneedling done at different medical spas and they were not as careful or precise. When RuthAnn did my microneedling it was very comfortable, and the results were great! No one else ever touches my face again! " M. S. 2018 Original on File.
---
I'm so grateful to have someone like you around to trust my skin with! Sarah J. 2021 Original on File
---
You All my friends who have known me for a few years when my acne was bad, always comment on how much better my face looks. Thank you! G. E. 2020 October Original on file.
---
"Thanks RuthAnn! My face had been fantastic since my last treatment. You're the best!" ~ Jen 2018 October. Original on File
---
"I love my HydraFacial Treatments done by RuthAnn! She performed these to get my skin ready for my wedding. I was glowing. A thousand Thanks!" Shelly Y. 2019
---
"I have been going to Ruth Ann Holloway for acne scarring since April of 2017 and I highly recommend her to anyone looking to beautify his/her skin. Since the moment I walked into her office, Ruth Ann was very personable and genuine. On my first visit, Ruth Ann listened to my concerns and provided me with various treatment options. During my treatments, Ruth Ann made sure I was comfortable and explained every step of the procedure. Definitely will keep going back! -L.C." Original on file.
---
"Thank you so much! I can't imagine what my skin would look like without you! Jennifer " Original on file.
---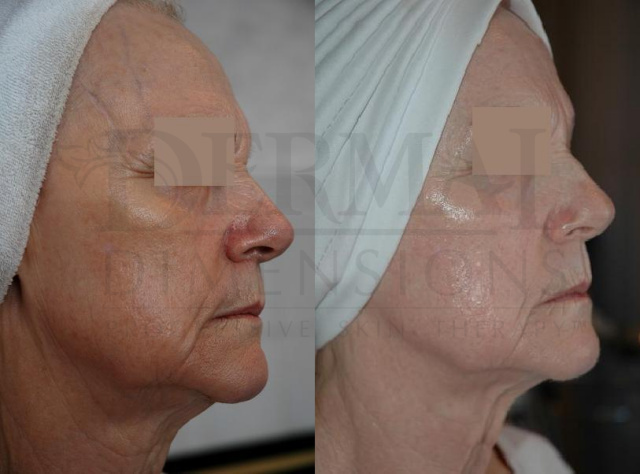 This client has come to RuthAnn Holloway for over 25 years, every three weeks.
She was 78 when these photos were taken. A combination of professional Dermal Dimensions Skin Therapy treatments were done over a 5 month period of time to boost her skin program, and these are the results of her dedication. Improvement: Skin texture, color, firming of the skin and neck, capillaries, and overall skin health! Her home skin care products were selected specifically for her skins needs.
---
AGING:
"My family was surprised at the changes in my skin. I look 15 years younger! People always ask me what I'm doing. My skin is softer, smoother, less lines, and no more brown spots. Nagging blackheads on my nose and chin gone. She also got rid of some spider veins and skin tags right under my eyes that laser couldn't do. I go to Ruth Ann every month because what she does works! Affordable too. Thanks Ruth Ann for my young skin, and brightening my life." - Lori C. Utah

(Submitted Fall 2015)
---
AGING: "You are the only one that I trust, and you are so good at what you do. I'm so looking forward to having you work on my skin." D.Taylor, R. N., Bountiful Utah
---
AGING: Hyperpigmention - rough texture - lines improved with Professional home skin care products by VitaDermRx Skin Therapy Products, and Professional treatments, by RuthAnn Holloway. Results achieved within 3 months.
---
ACNE: "I am 38 years old. My skin hasn't looked this good for a long time. I feel very confident in Ruth Ann's knowledge and skills. I don't know what I would have done without her. Ruth Ann Has been able to clear up my skin and diminish scarring after- from Accutain. My skin had developed some ugly brown patches. She has been able to fade those...I have a lot of people that can't believe I have a sixteen-year old son and I know it's because of the way my skin looks. Thanks Ruth Ann You saved me!" - Laura A.
---
ADULT ACNE: "Thank you Ruth Ann! My beautiful clear skin is evidence of your extensive knowledge and experience in treating acne. I could not have hoped for better results when I came to you for embarrassing and painful adult acne around the mouth. Because of your treatments, my confidence has soared and I don't have to wear globs of make up to feel beautiful. My skin speaks for itself!" K.C., Logan Utah
---
SKIN REJUVENATION: She is extremely dedicated, caring and knowledgeable; always trying to improve her skills. She's the best!" - D. McGregor, Logan
---
ANTI-AGING: My face looks fabulous. I loved the new Microderm-Diamond and Hydrafacial treatment. I have been extremely pleased with all of your procedures/treatments. Mike (my husband) says my face is so smooth and looks a 100% better than before I started coming to you. Thank you for everything you have done for me. You have made a huge difference in how I feel about my face! -Laura S.
---
BEAUTIFUL AGING: "I have been a client of Ruth Ann's for about 10 years and the greatest benefit that I have noticed is the refined texture of my skin. Compliments come from other people. When they find out my real age (60's+) they don't believe me and say statements like, "You look ten years younger than that!", or " I thought you were about 50!" To hear this makes my day! I attribute my more youthful look to microdermabrasion, electrical face lift, chemical peels and extraction, ...plus great products!" - Pat Blau, Logan Utah
---
SUN DAMAGE - PHOTO AGING: "I did the sun worship thing, soaking up the rays back when tan meant "healthy" instead of "wrinkled later on." Thanks to Ruth Ann's skill with microdermabrasion, and acid treatments, I can now keep the wrinkles of experience off my face and in my heart, where they belong. The lines softer, and my face feels ten years younger!" - Shelly Yeaman
This client had years of sun - photo damage from being in the military and building trades.These photos were taken one week apart. The treatment performed is a Dermal Dimensions proprietary peel formula.
---
PREMATURE AGING: "I have had two facials, exfoliation-peels, to remove premature aging and fine lines due to 20 years of sun-worship...very satisfied with the results, especially with the fine line removal around the eyes and mouth....an effective anti-aging program." - Janice B. Wellsville, UT
---
ACNE SCARRING: "I had surgery to improve acne scars. I did not see as dramatic of results with this surgery as I did with my treatment from Ruth Ann. I was surprised to see major improvement in the smoothing out of the surface. A certain scar, which at one time had deep stitches, has diminished to a point I never thought possible. I am encouraged by the results and impressed by Ruth Ann's knowledge, and resourcefulness, and compassion. Ruth Ann has given hope to many, of which I am one."Tracey Smith (note: Clinical Corundum Microdermabrasion, and Microneedling MTCA therapies)
---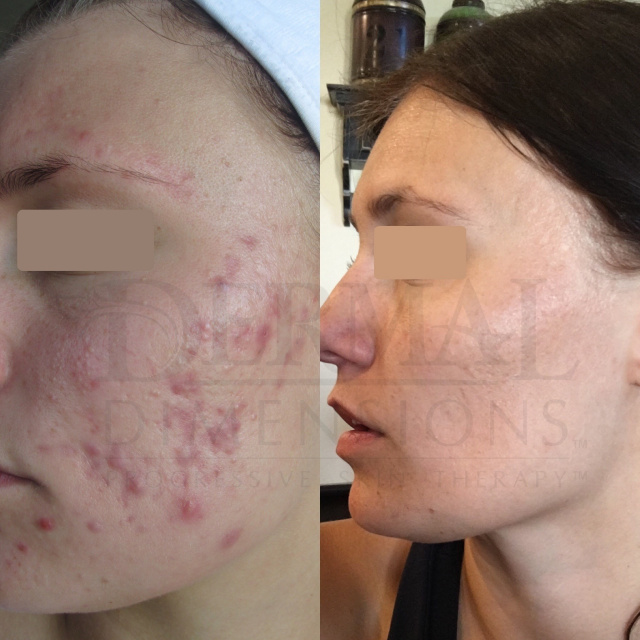 Note: These photos were of RuthAnn's client were in 2004. Proper Medical Corrundum Microdermabrasion and Chemical Pin-Point Peels were used.
With current advancement in skin rejuvenation treatments offered at Dermal Dimensions, such as Light Therapy, Radio Frequency Advanced Micro-Needling, Rx ProVitamin-Cell Treatments, and other proprietary treatments, positive results are possible, especially for the improvement of acne rolling and pick scars.
---
ADULT ACNE: "I've tried everything from dermatologists to aestheticians as far away as Salt Lake City. I even considered saving up for a one shot trip to New York or Los Angeles. RuthAnn is tops! So happy to be a long time client!" -Sue from Logan UT
---
ADULT ACNE: "I had been to the dermatologist for my skin but the things I was given didn't really work. After going to Ruth Ann and getting the Microdermabrasion treatment I have seen great results. Since I started going there on a regular basis, I have had the best results of anywhere I've tried. The texture of my skin is showing great improvement. My acne is clearing up and is almost gone." - A. S. Collage Student (male)
---
TEEN ACNE: "For years I had chronic acne. I tried everything from prescriptions to cosmetics. All of this with the same results...Nothing! I was impressed with Ruth Anns' knowledge and professionalism. Within a short time my face began to clear up and with it my frustrations. Now my face is smooth and clear. It feels great to have my face back."
- H. Wilde, Logan, UT
---
Marc Edward, Lic. Esthetician
Marc Edward Skincare
Voted the Best Facialist in Los Angeles, CA !
Proud to have been the "go-to" facialist for 2012 Oscar winners!
"
I always consult Ruth Ann and and trust her professional opinion; she is a skincare perfectionist. I appreciate that!
R
uth Ann is a Hydrafacial™
expert, and when I got my machine
she gave me expert advice on how to make it the most effective
treatment possible."
Marc Edward, Esthetician, Beverly Hills CA
---
PREGNANCY / ACNE: "I started going to Ruth Ann when I was about 3 months pregnant. I couldn't take any medication. She cleared up my face!" - Jamie Eyre
---
TEEN ACNE: " I am very impressed by the work that has been done on my problematic skin. It has made me less self conscious of my acne! "- M. Bell
---
TEEN ACNE: "I am 17. Lots of compliments have been made on the difference. Before going to Ruth Ann, my completion was leaving scars that were very noticeable." - Carrie F
---
ACNE: "I noticed improvement in the appearance and texture of my skin... and acne. My friends have commented on how much better my skin looks. I would strongly recommend Ruth Ann Holloway for anyone who desires healthier skin." -Charmaine Burningham
---
ADULT ACNE: "The one thing that impressed me most is Ruth Ann's complete dedication. She understands the emotional problems as well as the physical problems with acne problem skin. Since I started coming for treatments on my face, my skin has been more soft and smooth, my acne problem has been decreased dramatically, the scarring has started to disappear, and most of all- my self esteem has been lifted greatly. I can't express how much better I feel about myself. Thank You Ruth Ann! -J. Seamons, Logan, UT.
---
BODY SUGARING HAIR REMOVAL: "I have tried the Body Sugaring hair removal process for several months. I am pleased with the results and would recommend it to anyone." - Sincerely, C.V. (female)
---
BODY SUGARING HAIR REMOVAL: " I've had two professional body sugaring done! I can't say enough good things about sugaring. But only when done by a professional! : ) Smooth, sexy, oh my!" -Private (female)
---
BODY THERAPY: "A great big THANK YOU for the body treatment. My skin is still soft, even my legs! !" JB, Wellsville, Utah (female)
---
"For a Lifetime of Healthy Skin!"™
Contact: https://www.ddskintherapy.com/skincare.html
Providence Utah...just south of Logan Utah
In the Beautiful Rocky Mountains!
To make an appointment: http://www.ddskintherapy.com/page/page/2714025.htm
* All testimonials were voluntary; none received financial or other compensation.
©Pages, photos, and information on this site are protected by copyright laws.
Serving: Logan Ut, Brigham City Ut, Tremonton Ut, Preson Id, Providence Ut, Millville Ut, Nibley Ut, Hyrum Ut, Wellsville Ut, Mendon Ut, North Logan Ut, Hyde Park Ut, Smithfield Ut, Richmond Ut, Lewiston Ut, Clarkston Ut, Newton Ut, Ogden Ut, Franklin Id
For reference only: Dermal Dimensions is not a Medical Dermatology or Plastic Surgeons office for the care skin diseases or surgery. We offer Advanced Skin and Facial Care rejuvenation for acne, scarring, aging, and photo-damaged skin. When needed we refer patients to Budge Clinic, Dr. Nathan Hansen, Dr. Kelly Hubbard, and Dr. Cort McCaughey. Dr. Robert Young~ Rocky Mountain Dermatology, Dr. Blaine Andersen – Plastic Surgeon, Dr. Casey Isom – Plastic Surgeon.