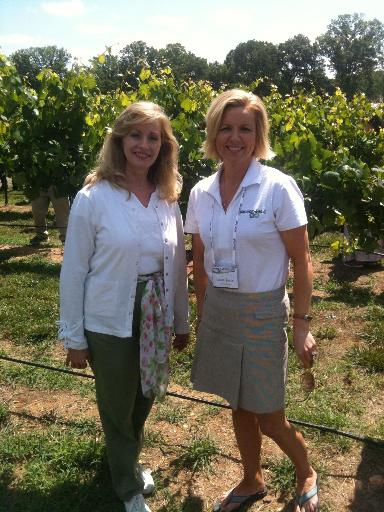 Why is

Nature's Pearl

the Premium Muscadine Company in the World?
Natures Pearl has scientific studies on their product which doucment the effectiveness of their muscadine grape seed supplement. There are over 100 antioxidants found in the hardy muscadine grapes, that have a beneficial effect on the human body for improving one's health.
Ruth Ann Holloway had a positive experience with Natures Pearl Muscadine Grape Seed Supplement. Call Ruth Ann and she will share her own experience with improvement in breast health.
(photo to the left taken at Natures Pearl Muscadine Orchard in North Carolina, June 2, 2012)
Reasons Why Nature's Pearl is so specail and Leads the Muscadine Industry:
Nature's Pearl

is the only muscadine company in the world, which has funded human clinical trials on its products.[i] We don't just speculate how our product will affect the human body. We test it.

Nature's Pearl

employs a full-time scientist to research our products and administer the highest quality control standards to each batch of muscadine grape seed.

Nature's Pearl

laboratory and warehouse is housed in 120,000 square-foot facility with state of the art equipment and storage facilities and is manufactured subject to FDA 21 CFR 111. Has your supplement company been inspected by the FDA?

Nature's Pearl

validates the quality of all grapes shipped from growers across the southeastern United States, to ensure the highest nutritional content in each batch of muscadines. We also test through independent laboratories to certify that every capsule meets our rigorous standards.

Nature's Pearl

throws away all muscadines which do not meet our rigorous standards of excellence. In 2009, we threw away over 200,000 pounds of muscadines. You may not know what is in other supplements. We know what's in ours.

Nature's Pearl

Muscadine 20 Antioxidant Skin Care products are 100% Toxic Free with high levels of muscadine grape extract in each bottle.

Nature's Pearl

was founded by Jerry W. Smith,who also began Le Bleu Corporation in 1990. Le Bleu manufactures and distributes Ultra Pure bottled water and five-gallon coolers for residential and commercial use).

Nature's Pearl

uses proven business practices to manufacture and distribute health and wellness products which improve the lives of our customers every day.

Nature's Pearl

online shopping is secure, reliable and dependable. We respond immediately to our customers. We are members of the Better Business Bureau and Chambers of Commerce.
Nature's Pearl

operates by the motto: "Helping People Help Others."
For more information and to order a FREE TRIAL of Natures Pearl Grape Seed Supplement, please contact me today. Fill out the form here: http://www.ddskintherapy.com/skincare.html
To read Natures Pearl Muscadine Grape Seed Clinical Studies: www.muscadinehealthresearch.com.
These statements have not been evaluated by the Food and Drug Administration. These products are not intended to diagnose, treat, cure or prevent any disease.